Social media has changed all the traditional notions of marketing across all industries. The Indian Luxury Hotels segment is not far behind, still in its nascent stage on social media but nonetheless they have upscaled their marketing efforts. Let's take a look at Hotel Trident's very recent social media campaign, which trended on Twitter across India.
About the Campaign
This campaign was conducted in Mumbai's Hotel Trident at BKC; the life span of this campaign was two days beginning from 29th March 2014 – 30th March 2014. They invited 3 social media Influencers to participate in this campaign, where they had to spend the two days in the hotel using Twitter (Mainly) & Instagram to avail all the facilities of the hotel by using the hashtag #TridentSocialHotel and by attaching their Twitter handle as well.
There were two quick activities around this campaign – the #Tweesurehunt and #Instachallenge. In the #Tweesurehunt task they were given clues, the answers where in the hotel itself they needed to reach each destination in order to unlock the next clue. In the #Instachallenge, they were tweeted the clues and needed to click pictures and post them.
They even ran a contest simultaneously on their Twitter handle on 30th March 2014 which was open to all; they had to answer 10 questions correctly (After deciphering the images) by using their twitter handle and with the #TridentSocialHotel. And the winner stood a chance to win a free night stay at the Trident BKC Hotel. This led to a lot of participation, increased engagement and increase in the number of followers as well.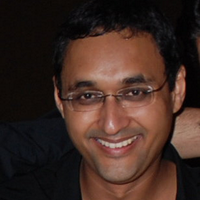 I had a quick chat with Prasanjeet Dutta Baruah, VP Marketing, The Oberoi Group about the campaign and Trident Hotels. And here is how the interaction looks-
Q1. Help us with 3 objectives that Trident has for Social Media (apart from Sales)
Reach out to and build a community of like minded people who like traveling, discovering new places, cuisine and experiences.
Engage directly with the community and further build affinity and interest
Co opt our community to generate content and share their experiences and expectations
Q2. We see the campaign #TridentSocialMedia was focused on Twitter and Instagram, Is there a specific reason why just these two platforms?
Given the nature of the activity we felt Twitter and Instagram would be relevant. While Twitter was the main platform used for conversation with the audience, Instagram became the gallery for user generated picture content.
Q3. How social is Trident hotel in real-life experience? How often you ask your customers to talk about their experience or connect with Hotel on Social Media?
As a brand we have been one of the first hotels to embrace social media cohesively. For us social media conversations are an extension of the normal guest conversations we have always had. Engaging and listening to our guests is the centre of our philosophy. Activities like the#TridentSocialHotel help us engage and interact with our guests and build affinity for the brand.
Yes we do share real time call to actions on guest facing communication such as emailers, in room signage amongst others.
Q4. There was a #TridentSocialHotel campaign in Dec 13 as well, what were the key learning from there?
The first activity held at Trident, Hyderabad was a great success and gave the newly launched hotel the necessary buzz and interest we wanted to generate. The concept of interacting with the hotel through your social handle for room service, check in etc. seem to have struck a positive chord with our audience and encouraged us to conduct the next one in Mumbai.
Q5. How do you keep a track of what people are talking about the hotel on Social Media? Are you using any tools?
Yes we use social media listening tools that track all conversations, reviews and mentions. The tools are linked to a response module that has in built escalations in it to ensure that the guests are always responded to at the earliest. We also have an ORM team which constantly monitors tone and sentiment that reports straight into my office to help speed up the interactions. We believe every comment or conversation whether positive or negative is an opportunity to build engagement and brand love. The key then like anything else is in the handling of the opportunity.
That is all like straight from the horse's mouth, let's have a more closer look to the campaign and see what are my observations about this.
What went Good?
The idea of a Social Hotel is one of its kind and unique. They took a chance, rather the usual run of the mill ideas of just creating #hashtag contest. They managed to very smoothly combine the offline-online activity and it created a good buzz on Twitter. Where acquaintances of the influencers, their customers etc. took to Twitter and applauded their efforts.
The Influencers played a large part in pushing the campaign; the brand was just the vessel for them. With them constantly tweeting about their experiences, and actively participating in the challenges. All this being seen by other users led to increased awareness and engagement for the hotel.
Due to the increased awareness and the hashtag trending nationally on Twitter, they gained a lot more followers as well.
What was off-beat?
I think the campaign was planned in a very short span of time. Declaring contest just a day before is not a good deal, specially on social. They should have definitely created more awareness and buzz about the campaign before it took place.
.@TridentHotels brings #TridentSocialHotel to Mumbai! #Bandra cc @TheBlackSakura @caramelwings @panku_ pic.twitter.com/hvKRMEST5q

— Trident Bandra Kurla (@TridentBKC) March 29, 2014
Then could have invited a few more influencers to be part of this campaign, which would have helped in creating more awareness, reach and participation for this campaign.
What I want to add?
Since it's about Social Hotel, how about having a social menu card in each room; a QR Code attached to each dish, the guests can simply scan it and hit Tweet to order with a specific hashtag!
To encourage your guest to make use of the above facility of ordering on Twitter, hotel can offer them some added discounts/goodies every time they order online.
I have been to Trident Chennai/Mumbai few times and what is miss is the offline social call-to-actions. For instance- 'Like us on Facebook' or 'Follow us on Twitter' with QR codes (maybe) somewhere in the lobby area, reception or elevators or other places.
The YouTube channel doesn't look like it's a part of the Trident Hotels, thus have a good Bio about your hotel, and suitable profile picture as well.
Create communities for foodies, travellers and social media influencers with tools like RebelMouse. It's like creating a hub for your brand, with a social front page which adds more layer and value for your brand. Give your social content a push and at the same time show gratitude to your online influencers. All with RebelMouse.
Social Media isn't only Twitter and Facebook, leverage your other social properties and start building your presence there as well. With the help of contest, consistent flow of content, engaging with your fans, integrating your social networks etc.
Through this campaign, Trident have made exemplary strides in the Luxury Hotel Industry in terms of marketing. They executed a brilliant, one of a kind activity which generated great buzz on Twitter.
Has your brand executed such a similar campaign before? Have any of your favourite brands taken part in an offline-online activity? Share your comments with us below.